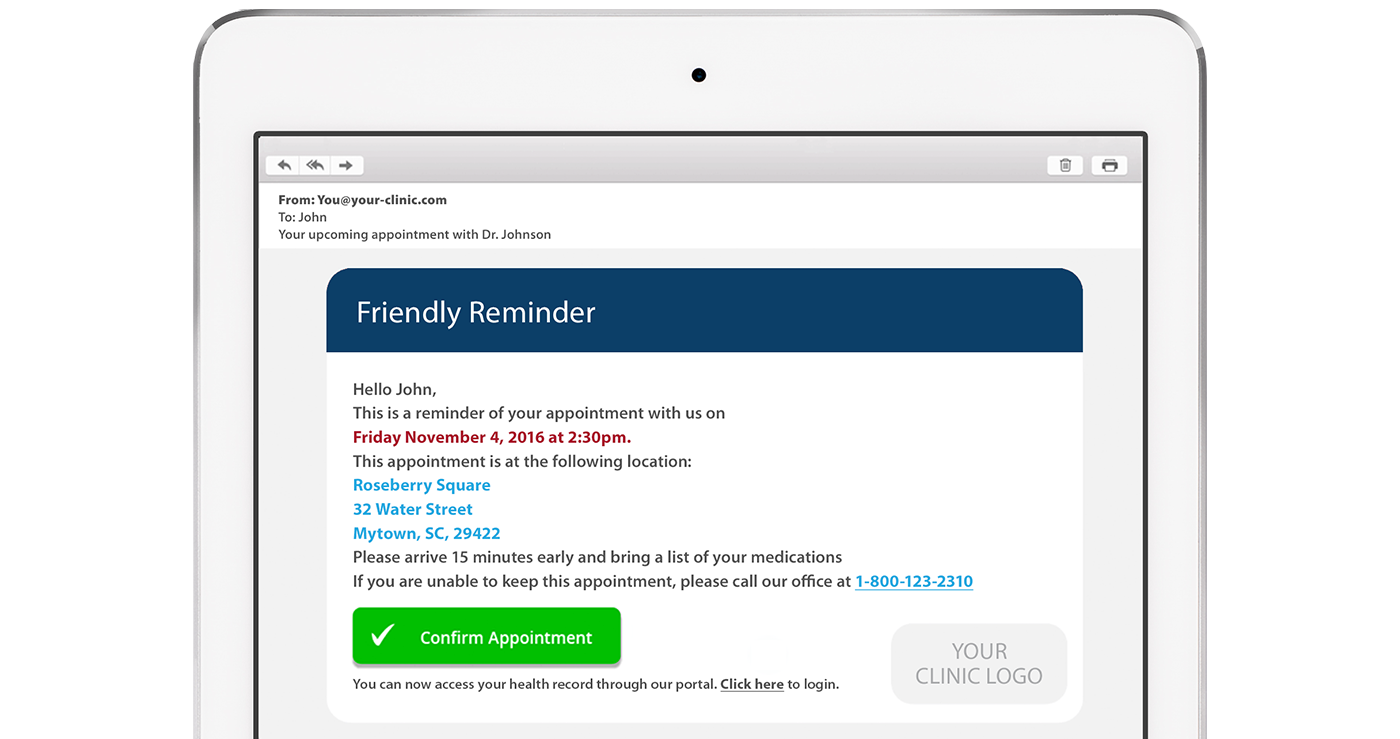 YOUR EMAIL ADDRESS
TelASK email reminders are sent with your email address. This increases open rates and appointment confirmations.
LINKS TO CALENDAR
The date and time of the appointment is displayed as an .ICS file. This allows your patient to easily add the appointment to their calendar.
MAP AND DIRECTIONS
The appointment location appears as a hyperlink to googlemaps™ so patients can easily get directions.
SPECIAL INSTRUCTIONS
Detailed instructions can be included to ensure patients arrive prepared. Patients appreciate knowing what is expected of them.
CONFIRMATION
Patients confirm they plan to attend with a simple click. Confirmation is posted in your system electronically.
HYPERLINKS
Include hyperlinks to educational material or to the patient's portal in the EMR.
REAL VOICE RECORDINGS
TelASK call scripts are all recorded by professional voice talents and sound friendlier than robotic voices. This increases call acceptance and confirmation rates.
VOICE MAIL DETECTION
TelASK can detect when a call goes to voicemail. Depending on pre-determined business rules it can either leave a message or retry later.
BUSY SIGNAL RETRY
A busy signal means that someone is there to take the call as soon as they hang up. When TelASK reaches a busy signal, it initiates a retry after a short interval.
CALLS ARE INTERACTIVE
Calls can invite patients to respond by pressing different numbers on their telephone keypad. One number will trigger a confirmation being sent to the EMR. Another number can be programmed to redirect the call to your office or to a third party answering service.
CALL DISPLAY NUMBER
TelASK Reminder calls display your Caller ID so the patient recognizes that it is your organization calling. TelASK does not use your office telephone lines to initiate calls.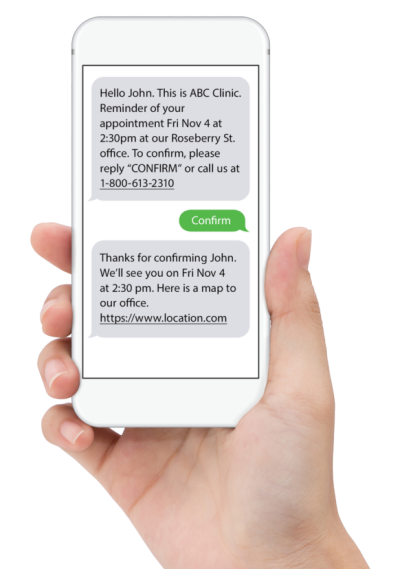 INTERACTIVE TEXTS
When a patient clicks on confirm TelASK can send another text to the patient thanking them.
ADDRESS THE PATIENT BY NAME
TelASK uses the patients name in the message. This way they are more like to read it.
HYPERLINKS
Texts can contain hyperlinks to useful information such as directions or special instructions.
INSTANT DIAL PHONE NUMBERS
Phone numbers provided in the text message are displayed in standard format which allows the patient to initiate a call to the number with one click.